What's Above Us Inspires Us. That's the message of LOOK UP, a new initiative created by astronaut, author and educator Dr. Mae Jemison. LOOK UP is based on the simple premise that we are all connected as humans under a shared sky, and that as the noise around us gets louder than ever, looking up at the sky can reconnect us with ourselves — and each other.
NatGeo's Your Short 
The Look Up community of sky-watchers, thinkers and aspiring photographers is teaming up with National Geographic for its next big event:  Your Shot! Your Shot is National Geographic's photo community, with a mission to tell stories collaboratively through big, bold photography and expert curation.
Everyone can participate in Your Shot using the new Skyfie app. For two weeks ending December 4, 2018, aspiring photographers can to go on assignment with Dr. Jemison. Her challenge: take a photo that conveys the intimate relationship between humanity, the Earth, the universe and the connecting sky. For your caption, describe how you feel when you actively look up. Submissions will be displayed on the Look Up Sky Tapestry at lookuponesky.org.
Look Up One Sky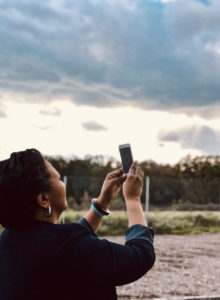 Skyfie was developed for LOOK UP and debuted October 18 for a 24-hour international event where people went outside, took a photo, video, audio recording or text message about what they saw and felt when they looked up.
The first LOOK UP international day aimed to bring communities together, drive innovation and transcend the boundaries of our own minds. The Skyfie app allowed people to upload a picture from the sky. All Skyfies were then geospatially displayed over a digital representation of the Earth, creating a Sky Tapestry. The Sky Tapestry, a feature of the Skyfie app, allows people from all walks of Earth to see the sky from a different perspective, inspiring a movement that unites people from various vantage points through one commonality.
Silverbee is working to spread the word about Look Up through media outreach and social media campaigns. Check out an interview with Dr. Mae Jemison on Cheddar; this space.com article, Dr. Jemison's interview with Jeremy Hobson on NPR's Here and Now, and her interview with Tech News World.
Connect with Look Up:
@lookuponesky
#LookUpOneSky
#LookUpTogether
@maejemison