What would you do to transform your life? How far would you go to change yourself? Would you drive, would you fly, would you run?
We've recently been working with a new feel good documentary about long distance running by friend and filmmaker, Sanjay Rawal. We've worked on Rawal's past projects including the successful and impactful documentary about Florida farmworkers, Food Chains.
We have some passionate runners here at Silverbee but we didn't know too much about the Self-Transcendence 3100 , the world's longest certified footrace, which takes place each summer June through August. The 3100 encourages runners to discover the limits of their capacities – and to try to go beyond them. And go beyond, they must: the small group of competitors come from all over the world to run a distance that approximates a US cross-country run – a total of 3,100 miles in 52 days – 5,649 laps around one city block in Jamaica, Queens. 3100: Run and Become follows Ashprihanal Aalto, an unassuming Finnish paperboy, and Shamita, an Austrian cellist, in their attempts to complete the race.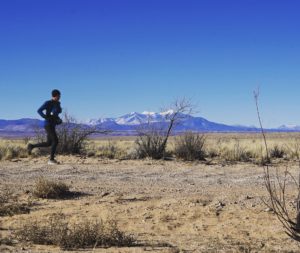 Ashprihanal and Shamita's 3100 quest takes viewers from the heart of this astonishing event in New York to places around the world where ancient cultures have held running sacred for millennia: the Kalahari Desert, Arizona's Navajo reservation, and to the mountain temples of Japan. Beyond competitiveness and athletic prowess, they run not for glory but for spiritual enlightenment, universal oneness –or because they simply have the responsibility to run.
3100:Run and Become is opening around the US in theaters, special events and film festivals throughout summer and fall. It's attracted great features and reviews, too. Check out this Broadway World review or listen to an interview with filmmaker Sanjay Rawal on the Rich Roll podcast and the Warrior Mind podcast, and read this story about Navajo ultra-running champion Shaun Martin in Trail Runner. If you're interested in watching the film, check their website for screenings. And have your running outfit ready. After watching the film, you'll want to start your marathon training right away, believe us! As Discover Arizona Now said after interviewing Sanjay Rawal, "We glimpse the lives of these amazing ultra-runners through an incredible film and foot journey that spans the globe. You will never see a pair of running shoes the same way again!"