Our latest project (in collaboration with Fat Dot) is a web series that's started a new genre we're calling Islam-Com. Shugs & Fats are immigrant roomates navigating the absurdities of social conformity in Brooklyn, where everything and anything is possible and permissible. The Gotham Award-winning show launches Season 3 this week during  the 2016 Tribeca Film Festival. Shugs & Fats marked the occasion with an interview with Terry Gross on NPR's Fresh Air.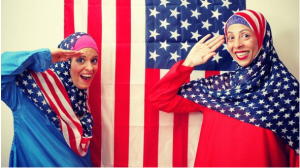 In the vein of Da Ali G Show, Broad City and the Marx Brothers (but wa-a-a-y faster and easier to binge-watch at just 3 minutes per episode) Shugs (Nadia Manzoor) and Fats (Radhika Vaz) are two loudmouths in blinged-out burqas, "walking the line between hipsters and hijabis," striving to find themselves by adopting the latest Western trends of self-expression and personal growth. 
What happened filming guerilla-style on the streets of New York in colorful hijabs? Lots of interaction with the haters and scoundrels at the rough edges of the city — but even more with thoughtful onlookers including Park Slope's new gentry: young, politically correct, and unctuous. If you want to know more– and we know you do– just listen to Terry Gross's interview.
Find a bounty of Shugs & Fats at shugsandfats.tv and on YouTube,