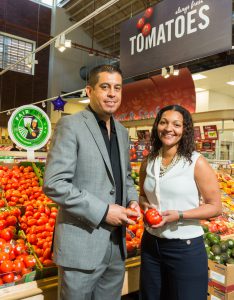 The Coalition of Immokalee Workers' (CIW) Fair Food Program is a unique and innovative program that has successfully improved human rights for the workers who pick our fruits and vegetables. It aims to be a model for social responsibility in the agricultural industry where people often work under inhumane conditions.
The program is a unique partnership among farmers, farmworkers, and retail food companies that ensures humane wages and working conditions for the workers on participating farms.
In July 2015, Ahold USA, parent company of grocery store chains Giant, Martin's, and Stop & Shop, became the first-ever major supermarket chain to sign and launch the Fair Food Program. Announcing this new way of buying and selling tomatoes to increase farmworker's wages was a delicate industry and shareholder announcement which had to be balanced with a marketing campaign to consumers to show them that the tomatoes they were buying were "Fair Food" labeled.
Silverbee, working with Finsbury, created a comprehensive PR and marketing plan, because of our company's experience promoting socially responsible and sustainable initiatives. Our July-November campaign began with industry and consumer announcements, continued with marketing design and support (signage, photos, food labels) and concluded with handing media relations and stories by news writers and columnists about Ahold and Giant's new program.
Fair Food components and deliverables:
Photo staging, signage, and label design
FAQs – internal, external
Media Relations messaging
Press releases (English, Spanish) for industry and consumers
Media relations campaign, consumer and trade
Executive video
Film Screening on Capitol Hill