If you or someone you know has competed in an obstacle course race like Tough Mudder and Spartan you probably wondered, why? Why the heck would anyone crawl under barbed wire, jump over fire, literally electrocute themselves and get excited to do it again. And pay good money for it!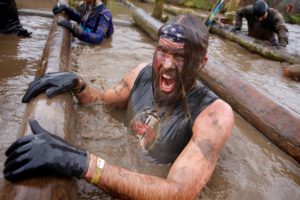 Our friend, journalist and filmmaker Scott Keneally, was wondering the same thing. Ever up for a gonzo challenge, Scott decided to suffer and write a funny story about it. He figured a self-described "pain-averse beta male" tackling a paramilitary assault course would make for a good story. Of course, he also wanted to score an "epic" profile picture so he could brag about it on Facebook and Insta.
While researching the history of Tough Mudder, Scott met some of the world's most unique and interesting people, from the unusual and contrary English founder of the sport's granddaddy, philosopher and athlete Mr. Mouse, to three-time champ and Apple lawyer Amelia Boone, plus repeat champion and former underwear model Hunter McIntyre. Scott stumbled upon a "Social Network"-style scandal… and quickly reinvented himself as an investigative journalist and his expose for Outside Magazine grew into a film, RISE OF THE SUFFERFESTS. It's the first feature documentary about the muddy, masochistic world of obstacle racing. Simply put, the film asks WHY the hell everyone is suddenly paying for pain… and WTF it says about the world we're living in.
What's the deal. White privilege? Narcissism epidemic? Masculinity crisis? Loneliness in the digital age? A little scared, a little excited, and working from funds raised in two crowdsourcing appeals, Scott is about to become a father for the first time. Scared sh&tless, he goes for it. 
Scott Keneally recently talked to the OBSERVER about obstacle races and the psychology behind the OCR phenomenon. Read what he says about making the film and what he thinks about where the OCR craze is headed. 
You can also listen to him on ORDER OF MAN explaining what you can learn about yourself through participating in a race of your own.